Location: Orchard Central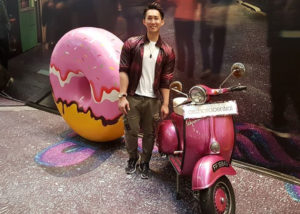 Orchard Central's signature experiential F&B adventure, F'east, is back for another installment!
Shoppers were treated to a month  of fun filled activities like art jamming classes and contests to win attractive prizes!
F'EAST 2018 – Experiential Food Art Journey

2 more weeks of fun filled activities! From now till 12 Aug 2018, participate in the Art Jamming classes and Contests to win attractive prizes! What's more? Look out for roasted flavoured Marshmallow giveaways on 11 Aug from 2-6pm! Come over with your friends & family to join us in this experiential Food Art Journey…#orchardcentral #fareastmalls #shopfareast #ocfoodart #foodartsg #foodiesg #artsg

Posted by Orchard Central on Monday, 30 July 2018
Emcee Jim Koh was invited to host the fun-filled event! Shoppers also get to make their own ice-cream rollies and they also get to taste the limited edition galaxy themed donuts!
Editor: Huiting