In collaboration with TungLok, 88.3JiaFM would be giving away the healthier and tastier mooncakes this Mid Autumn Festival! Here's the details:
Date: 31 August 2018 (Friday)
Time: 12 NOON
Location: Amoy Street Food Centre
HOW: Simply download this photo and show it to either Ivy or Jimmy and the first 70 pax will receive mooncakes! Come early, because the first 30 pax gets to bring home a limited collection of 4 mooncakes each!!!!!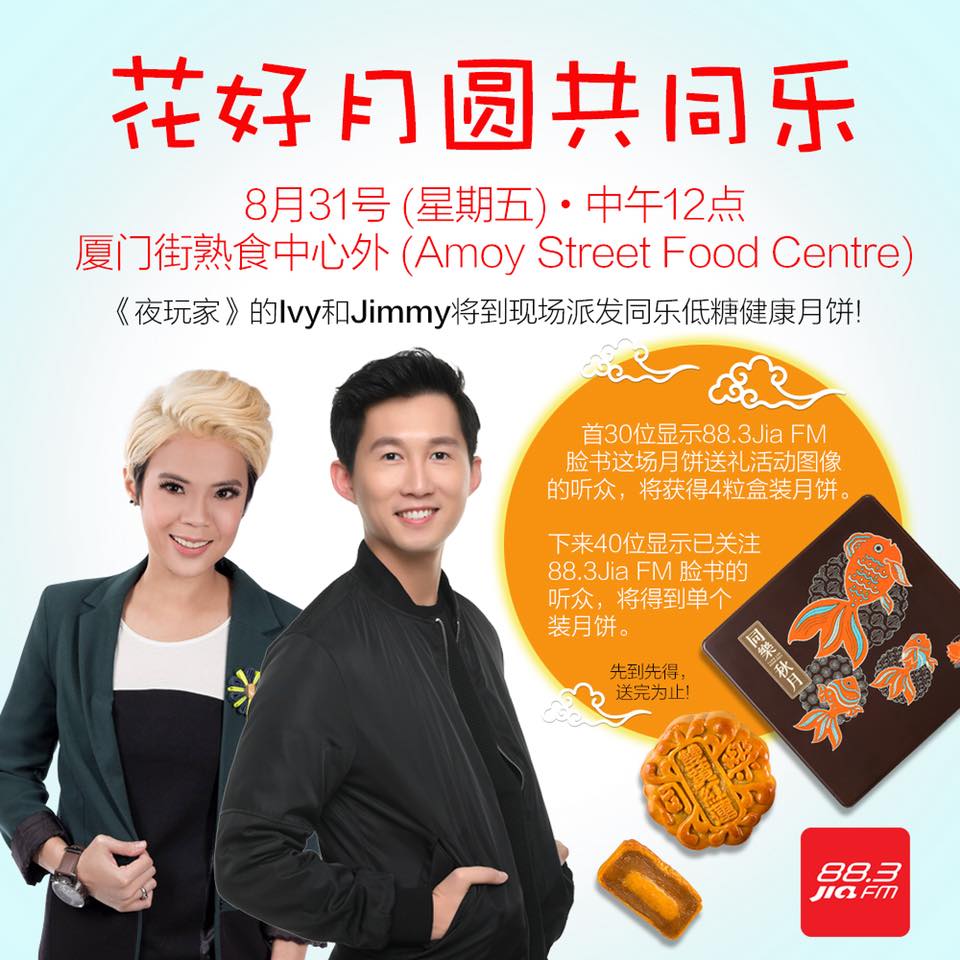 In case you are wondering what is the buzz with TungLok Mooncakes:
This year's mooncakes are developed in line with the Singapore's Health Promotion Board's healthier dinning program guidelines and TungLok's lower-sugar mooncakes contain 30% less sugar but still taste great!
The delicious TungLok's mooncakes come in nine different flavours – Egg Yolk White Lotus, Egg Yolk Red Lotus, Double Yolk White Lotus, Double Yolk Red Lotus, Macadamia Nuts White Lotus, Melon Seeds with red lotus, mini mooncake egg yolk white lotus, mini snowskin egg yolk white lotus and mini snowskin white lotus with nuts.
So remember to come early for the collection and you can also get your favourite TungLok's mooncakes from their website!
UPDATES (31 AUGUST 2018) 11.30AM
We are outside Amoy Street Food Centre and the response for TungLok's Mooncake is overwhelming!! ARE YOU NEARBY????
UPDATES (31 AUGUST 2018) 12.15AM
Thank you for your wonderful support! We have finished giving away all of TungLok's Mooncake! Remember you can still get them at all TungLok's restaurants or order online!
Meanwhile, Ivy and Jimmy will see you tonight on-air on 88.3JiaFM 夜玩家! (9PM – 12MN)
Editor: Huiting