This year's NDP will be held at the The Float @ Marina Bay to commerate Singapore's 53rd year of independence. The theme for this year's NDP is "We Are Singapore" and Singaporean Musician Charlie Lim updated this year's theme song with a twist!
We give you 8 reasons why the National Day Parade 2018 will be lit (based on what we see during the rehearsals)
1. Red Lions & Navy Divers
This year, the Red Lions will bring the heat (and height) higher by jumping from a record height of 3,800 metres! The eight member Naval Diving Unit will also perform a 1,800 metres jump from a Super Puma helicopter before landing into the water!
2. Singapore's Mascots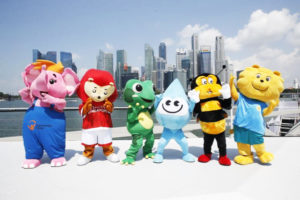 This year, six of Singapore's very own mascots would also be hyping the crowd at the very beginning of the parade! Do you still remember their names?
3. Chingay on the sea
As part of the National Day performance, 18 beautiful floats decorated after iconic structures of Singapore's yesteryear would also make their appearance on the waters of Marina Bay.
4. RSAF Special Fighter Jet Display
In conjunction with the RSAF celebrating their 50th anniversary this year, you will also be in with an enhanced ariel display segment. The planes will fly in formation before manueving into difficult sharp turns over the Marina Bay skies.
5. Biggest Military Tattoo, period
Many students will take on more roles in this year's National Day Parade as many of them will participate for their first time in the military tattoo display. This year will also feature the biggest military tattoo held at The Float @ Marina Bay with more than 560 participants.
6. Creative Director Boo Junfeng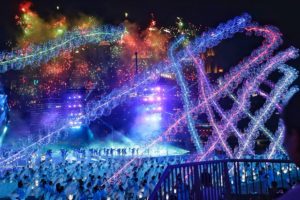 If you've seen some of his works, you would know Junfeng has the apts of touching hearts. This is evident in the National Day parade performance segment when the focus is on the lives of ordinary Singaporeans. We promise it's going to be touching. Get ready your tissues!
7. More audience interaction
The rehearsals have been really amazing! Audiences are not only treated to a visual performance, but also had fun with the huge bouncy balls and giant flags the unveiled together during the performance!
8. Baby, You're a firework!
Who doesn't like a spectacular fireworks display? This year's fireworks will happen around 8PM. So if you haven't gotten your tickets, be sure to stay around Marina area for this amazing display!
Updates: 9 Aug 2018 (1600hr)
88.3JiaFM DJs Jimmy and Shuhui are at the Floating Platform to bring in live reports for you on air from now till 8pm. Are you tuned in??
Editor: Long Huai